Newroz Films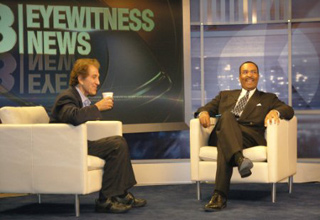 Jay Jonroy Alani, Writer/Director/Producer.
Based in New York, J. J. Alani aka J. Jonroy also works in Los Angeles and Paris. A DGA member -Directors Guild of America- and a WGA member -Writers Guild of America- in New York since 1996, Alani is the Writer/Producer/Director of the theatrically released and critically acclaimed, controversial feature 'David & Layla.'
His new feature "Beyond Paradise' is one of the most anticipated independent movies of the year, It stars Ryan Guzman and Francia Raise, with Daphne Zuniga, and introducing Misha Crosby, plus Max Amini, Rachel Spencer, and Yareli Arizmendi.
In the Official Selection at 28 international film festivals, David & Layla won 8 Awards, including Mon Amour Festival's Grand Prix du Public against 'La Vie en Rose', '2 Days in Paris', and 'Lady Chatterley.' He dedicated this film to his family members murdered in a genocide campaign.
David & Layla received critical praise in the New York Times, Variety, Washington Post, LA Times, etc., and from the Nobel Laureate, Oscar nominee Screenwriter and Playwright, Harold Pinter: "A bold, politically relevant film against impossible odds."
Alani is in development on a new independent movie entitled 'Amorous', and two epic films: the 5000-year-old epic historical allegory "Gilgamesh" as two screenplays: "Gilgamesh", and "Gilgamesh: In Search of Immortality."
He studied at the UCLA School Film and Television and at the USC School of Cinematic Arts (Advanced Screenwriting Practicum) in Los Angeles, 1985-1989.
Hollywood's largest studio, Warner Bros, as well as Netflix, iTunes, Amazon, Vudu, Turner Classic Movies, etc., continue the Digital Distribution of David & Layla. Its Music score is on 60+ international music sites, including iTunes.
Following Creative Photography studies at the London Camden School of Arts, Alani worked briefly as a Fashion Photographer in London and Paris.
In Paris, he studied at the Sorbonne University, 1990-1994, receiving a "Diplôme Supérieur de Langue et Civilisation Françaises."
In New York, he coached graduate students at the Graduate Department of New York University (NYU Film School- Tisch School of the Arts) on their final thesis projects, 1996-2000.
He served as an Acting Coach at the Circle in the Square Broadway Theater School in New York where his then wife, Olga Alexandrova aka 'Layla' Alexander', was studying, 1995-1999.
Earlier in England, he had received a (B.Sc.) First Class Honors in Science and Sociology at Leicester University, (D.I.C.) Diploma of Imperial College, and Masters Degree (M.Sc.) in Cybernetics at London University.
In London, as a Marketing Executive with ICL, he worked with the creators of the Monty Python London TV series, while at night he studied 'Acting, Speech, and Movement' at the "City Lit"- the City Literary Institute.
A member of The Royal Photographic Society (U.K), Alani is an Art and World Music collector.
He is the founder of "Human Rights For All - No Exceptions!" featured on Facebook, which focuses on female empowerment and equal human rights for the oppressed women and all the minorities of the world, including gays and lesbians.
A dual American and British citizen, J.J. Alani was born in the Middle East. He is fluent in English and French, some Portuguese, and he also speaks or understands a few Middle Eastern languages. He has lived and worked in Paris, London, Rio de Janeiro, San Francisco, Los Angeles, and New York.